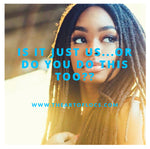 Is it just us...Or do you do this too?
Is it just me or does everyone who has locs do this?
I have been loc'd now for fourteen years, which at times I still can't believe. One thing that I've noticed I do, no matter where I am, without fail, is always notice and look at other people who have locs. Not because I have loc envy, I've been down that road before. But, my expert eye can always tell if someone does not take care of their locs or if they get them maintained on a regular basis - almost instantly. I thought it was just me because I am a loctician, but then it randomly came up in a conversation one day with my boyfriend. So, usually when you're out with your significant other it's considered rude to look at the opposite sex, but I guess when you and your boyfriend both have locs(and your'e a loctician), there is an unspoken pass lol.
We were in church one Sunday and these two guys who had locs walked in. From the time they walked in until they took their seats (which was only a few steps), we were both looking at their locs. They had even noticed us. We both love thick locs, so we both made a comment to each other about the thickness of their locs. After church, the conversation was brought up about how we both noticed their locs and how nice they were...So, I asked him…"Do you always notice other people locs when you're out?" To my surprise, almost innately, he said, "Yes!" I told him, I thought it was just me, because I maintain locs for so many people. Then, he told me he has even noticed when other people who have locs stare at his. He said some people actually show acknowledgement by dapping him up, almost like an unspoken, "I see you". Come to think about it, I've had other people do the same to me. Ask questions, compliment, or just simply stare. Really, all of this just over a hairstyle?!
Locs are still a hairstyle that a lot of people who don't have them just simply do not understand. But, there is a strong connection amongst those who do. We all have our own stories on why, how, or who started them. Some people are on their second or third set. Some have just started and some have been growing them all their life. No matter what led you to the decision to loc your hair, we have all been to that same place in our minds - I'm going to loc my hair! There is something special about each person who decides to take a loc journey.
Locking your hair is a bold expression against the grain that society has made acceptable for hairstyles. So, to notice or acknowledge another person who has locs, is so much deeper than a style, color, or health of their locs in that moment. It is acknowledging and understanding the ups and downs of that journey. Remembering what it took to get to their length or even realizing you have so much more to grow and learn. Each stage of our loc journey comes with different challenges that are almost parallel to the challenges and phases of our  lives.
I bet the next time you stare or connect with someone who has locs, you will remember this post. You know everything you've gone through in your loc journey to get to where you are now. That moment of noticing and acknowledging another loc'd individual, either vocally or silently, will be much more meaningful than a simple stare. Feel free to share any experience you've had with staring at other people who have locs or with people staring at yours...I know it can't be just us lol!
Want to know something? Or have questions? Feel free to email me at theartoflocs@gmail.com to submit your question. Thank you for reading. Make sure you're following us on Instagram @theartoflocs