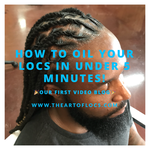 How To Oil Your Locs In Under 5 Minutes
All of my clients would agree that the #1 question I ask is, "Have you been oiling your hair?!" Simply oiling your hair can completely change the look and feel of your locs. I have seen it countless of times. You don't realize how much of a difference it makes until you start doing it on a consistent basis.
I wrote a blog about 5 things you could do to add moisture to your locs. Using K. Essentials Hair Oil was definitely on that list! In almost all of my blogs, I mention oiling your locs and the importance of doing so. This video blog is all about how and when to do it, because I get that question a lot as well. Watch this video to see how to oil your locs in under 5 minutes. 
Want to know something? Or have questions? Feel free to email me at theartoflocs@gmail.com to submit your question. Thank you for reading. Make sure you're following us on Instagram @theartoflocs