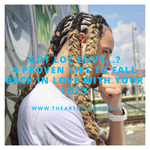 Got Loc Envy...? 4 Tips To Fall Back In Love With Your Locs
February is a special month. Not only is it the anniversary where we celebrate the past, present, and future of all black people, but it is also the month of love. I decided to get all up into my feelings this month and open up about something that I've suffered from and many other people that I know have as well…Loc Envy-yes, it is a thing! When you hear people say, "I wish my locs looked like that!", "I hate my locs", "They're too thin", They're too thick," "If my locs looked like his/hers…", blah, blah, blah…I could go on and on about the things I've said and heard others say. But, you are reading this blog to hear about the ways to fall in love with your locs, so let's focus on the positives.
Remember why you started
First things first. Go back to the reason you decided to loc your hair, think about what your end goal was, who or what inspired you. 9 times out of 10 that reason trumps any temporary loc envy you're dealing with. It's cool if it's not some super deep reason, mine wasn't. I was moving away to college, didn't have any transportation to get back and forth to a salon, and I felt like I had tried every hair style up until that point, plus I had a short cut. However, there was something that kept me on my journey, which turned out to be much bigger than my "not so deep" reason. That alone makes me love my hair even more every time I think about it.
Start taking better care of your hair
This is the easiest part of the journey to falling back in love with your locs. Sometimes, it can be as simple as using the right oil on your locs, have you tried K. Essentails? Usually, when we have fallen out of love with something or lose that zeal for it, it is because we have stopped taking care of it or doing the things that we were once doing when we loved it. It works the same with our locs. Sometimes people start their locs thinking they don't need to hire a professional…until they realize they really do. So many times, I've had people come to me after they have done everything possible at home to destroy their locs and have reasons to not like them anymore. However, as soon as I get them on a proper maintenance routine, their hair begins to blossom and the love is restored. If you were going to a professional loctician, but you stopped and have noticed a negative difference, start going back. If you've never been to a professional loctician or you're not seeing your hair flourish with your current loctician, read my article, The 3 Things You Should Ask Before Hiring a Loctician. Then, go out and find a professional loctician to help you on your journey to falling in love with your locs again.
Switch it up
I can remember going through a stage where I was determined to love my locs, no matter what they looked like at the moment. I found simple styles like curls and crinkles that worked for me and gave my hair volume and texture, which helped a lot with my loc confidence. So, try different styles that can become your go-to styles that make you feel and look your best. If your hair is unable to be styled and you don't have color damage, put some color in your locs (only from a professional). Color is always a good way to spruce up locs and give them a different look, even if it's a natural color.
Don't believe everything you see
Social media-issa trap. That is the quickest way to get derailed from your loc love journey. Social media will really have you about to cut off all of your locs and start over. Don't fall for it! Can I let you in on a secret: It's not real. You see the most beautiful locs all over social media every day, but what you don't see are all of the filters, angles, unhealthy scalps, build up, or what they may have gone through to even get to that point. You may be thinking their hair is loc goals, but you never really know how someone hair looks until you really get in it. I know firsthand.
I had the biggest setback in my locs a few years ago. My hair was down to my lower back, almost touching my butt, the longest it has ever been. I was going through a color change and allowed someone to double process my locs…biggest mistake everrr! My ends were just falling off daily. I did so many protein treatments during that time. Every time I tried shampooing my hair, it seemed like my ends were just dissolving down the drain. It was horrible, I was sad and felt self-conscious about it. Nevertheless, I pushed through. I did everything I could to get my locs back into a healthy state. I was determined. I started taking care of them more than ever. I was using K. Essentials every day and doing routine hot oil treatments.  It wasn't until a little over a year ago, I fell back in love with my locs, but it was a sacrifice. I had to suffer through some ugly drab colors, drastic cuts, repair, a lot of patience, and a whole lot of self-love. Sooo, if anyone knows about loc envy, that would be me. I personally used all of these tips to fall in love with my locs again. These positive tips aren't the end all be all to this list, but it will definitely set you off on the right foot.  Being intentional will get you results. Admiration and even inspiration of and from others is okay, but your locs are an unique extension of you. You have to stay focused on your locs and your loc journey. Love your locs!
Want to know something? Or have questions? Feel free to email me at theartoflocs@gmail.com to submit your question. Thank you for reading. Make sure you're following us on Instagram @theartoflocs