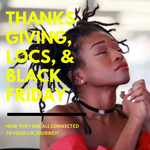 Thanksgiving, Locs, & Black Friday : How They Are All Connected To Your Loc Journey!
Ahhh November… Besides my birthday month (March), November is my other favorite month of the year. I get to host my annual holiday women's event, Gifts & Girlfriends (a girlboss weekend), and out of all of the holidays, Thanksgiving is my favorite. One, I looove to eat, lol. Two, I love laughing, lounging, and kicking back with my family and friends. Lastly, I get sucked into the hype of ALL my favorite brands black friday sales *scroll down if you're a sale junky like me, and can't wait to see our Black Friday sale* Anywho, I have adopted my own meaning of Thanksgiving and I actually practice it year round. Here's why and how...
Gratitude.
Gratitude is a word we've heard our entire lives. Even attached to the common phrase, "Have an attitude of gratitude." But, no one ever really breaks down what that means or even how gratitude looks. We were just taught to, "be thankful" overall. And yes, being thankful is a huge part of gratitude, but there is another side to it; quality. Google's definition of gratitude is, "the quality of being thankful; readiness to show appreciation for and to return to kindness."
The practice of gratitude is life changing. I am speaking from personal experience and research. It has been scientifically proven that practicing gratitude can improve your quality of life. Some of the other benefits are more energy, better sleep, more positive interactions and experiences, increased income, more kindness and compassion, and better health. That is pretty much every aspect of our life! So, how does gratitude look and how can you begin to practice it?
I could literally go on for days talking about gratitude and ways to express it, but here are just a few ways you can begin to practice gratitude daily.
As soon as you wake up in the morning, before grabbing your phone, just say thank you. It doesn't have to be out loud, you can say it quietly to yourself. This exercise is more about the feeling of being thankful you got the opportunity to see another day; no matter what your day looks like or will be like, you made it. Be thankful for that. Next, try to find the most random moments throughout your day to show gratitude. It can be an interaction with a friend or a thought you have while driving in your car. Be aware and start looking for things to be thankful for, even if it's the smallest thing like the sun, or that flower you walk pass everyday, but never acknowledge. Have fun with practicing gratitude. Allow yourself to be thankful and show gratitude for the things we usually take for granted, like our limbs, the ability to walk, not only the food we eat, but the ability to eat on your own.
Gratitude can be expressed towards the most minuscule of things, but still have the same effect on your life as being thankful for something big. The small things will always lead to bigger things even if we cannot see it at that time. In other words learn how to be grateful for everything, up or down, good or bad.
Locs.
As you can see, I can get real long winded when it comes to expressing gratitude (which I am thankful for, lol). However, I do want to share how gratitude can even extend to your locs. A few months ago I wrote, 4 Tips To Fall Back In Love With Your Locs. I encourage anyone who's having loc envy or not feeling the best about their hair right now to read that blog. It touches on this gratitude practice and how you can use this same concept to be thankful for own locs, no matter what stage of growth they are in. If you are just starting out, I would suggest you read, 3 Tips To Avoid The Ugly Phase. Both of these blogs share positive mindset tips to embrace your own loc journey. Sometimes, we can look at someone else's hair and begin to not be as grateful for our own. It's possible to love and appreciate something about someone else's hair, while also finding ways to be grateful for yours. For any reason, you can't seem to find anything grateful about your locs and they are not making you feel good about yourself, you can always start a new hair journey, rather that is with or without locs. And be thankful for that!
Black Friday.
Okay, so I've shared how gratitude will upgrade your life, different ways to show gratitude towards your locs, and now it's only right for me to show my gratitude to you and give you a preview of our Black Friday sale. Make sure to put The Art of Locs on your black friday shopping list! We will be having 50% off K. Essentials Liquid Hair Oil for ONE DAY ONLY! We may also have some new products dropping, so look out for those as well.
I hope this has helped you have a better understanding of gratitude and how you can begin to use it to help improve your life. If it has, share with a friend or a loved one. I hope you have a Happy Thanksgiving. Thankful for you!
Want to know something? Or have questions? Feel free to email me at theartoflocs@gmail.com to submit your question. Thank you for reading. Make sure you're following us on Instagram @theartoflocs